Hacienda Beach Club
Opportunity // Centrally located on Cabo San Lucas' famous Medano Beach, despite economic downturn, Hacienda had a story yet to be told.
Company // Greenhaus
Role // Designer
"Steps From", a campaign that simplified how few steps your home would be from the spa, fitness facility, pool, restaurants, shops and a variety of walkable destinations in Cabo San Lucas, Mexico. A place to step away and relax, or step into the middle of the action, all from Cabo's most famous beach. And talk about a step up: A 300% increase in inquiries and visits, and a 4X sales increase over the following 3 years.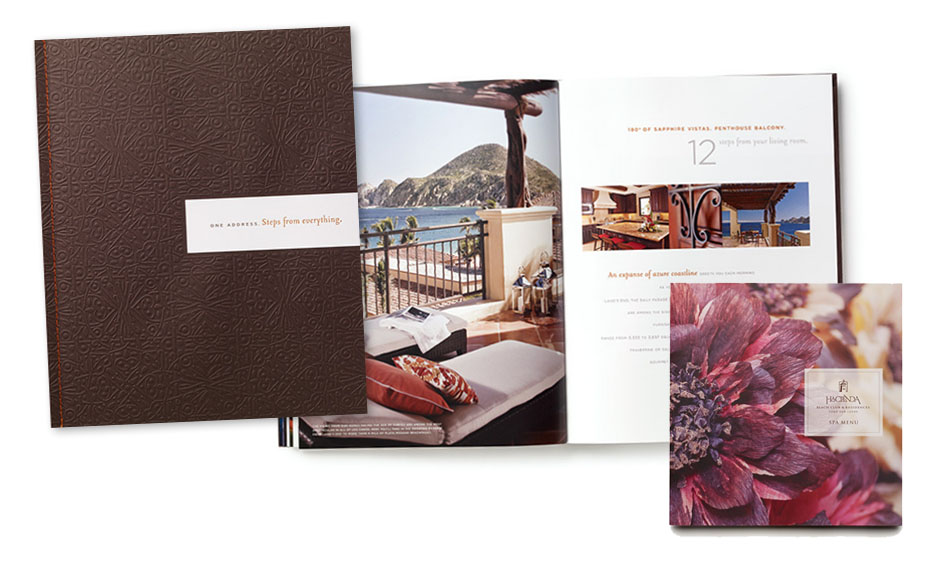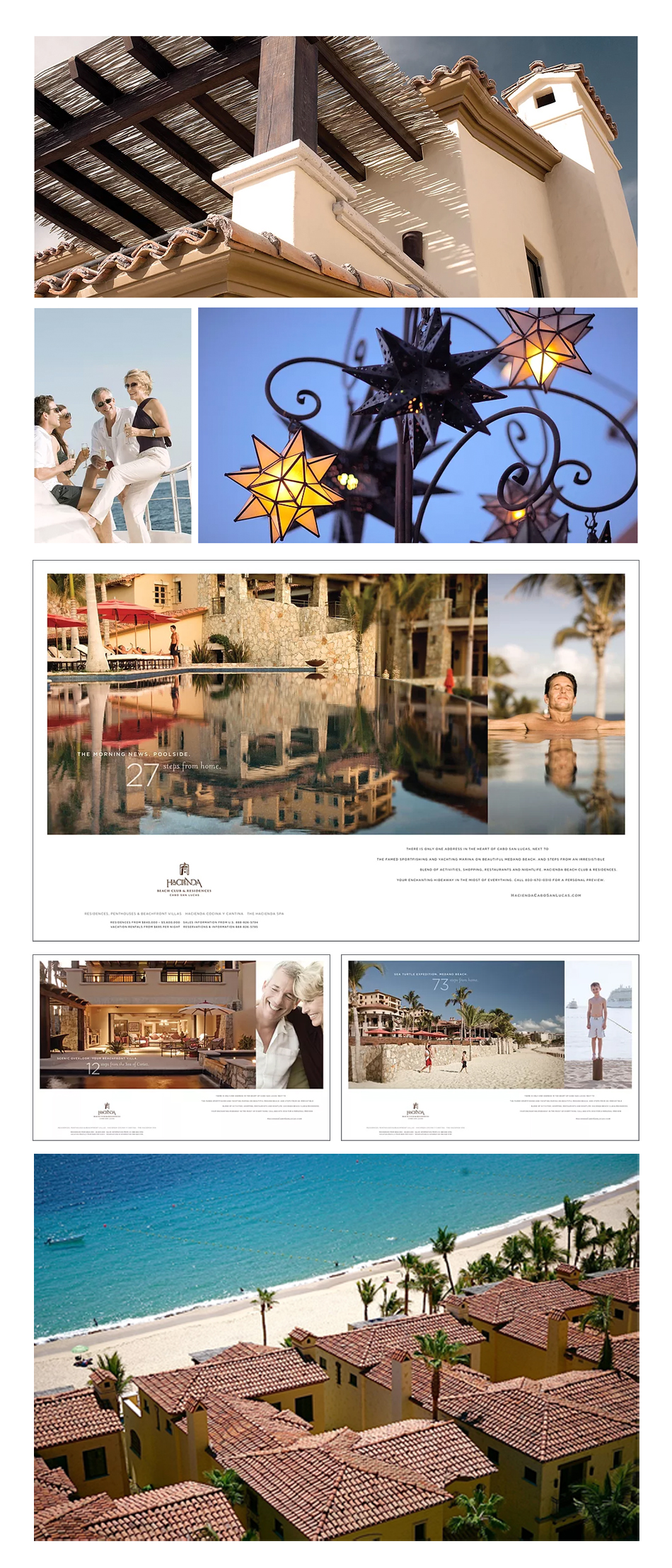 ADDITIONAL RESORT & SPA
Sycuan Resort Presentation Sales Kit and Rack Brochure
The Sycuan Resort presentation sales kit was designed with hand-chosen specialty paper, multi-level embosses, gold foil, custom vellum flysheets and a high-quality uncoated paper for the inside sheets with a UV coating over the images. Photos were chosen from a photo shoot and selected stock imagery. Creatively directed, designed, copy-written and executed to successfully increase group/tournament sales. Also created: several folding insert brochures such as a rack brochure design (shown), golf tournament, golf academy and spa brochure and a stationery package of letterhead, envelopes, and business cards.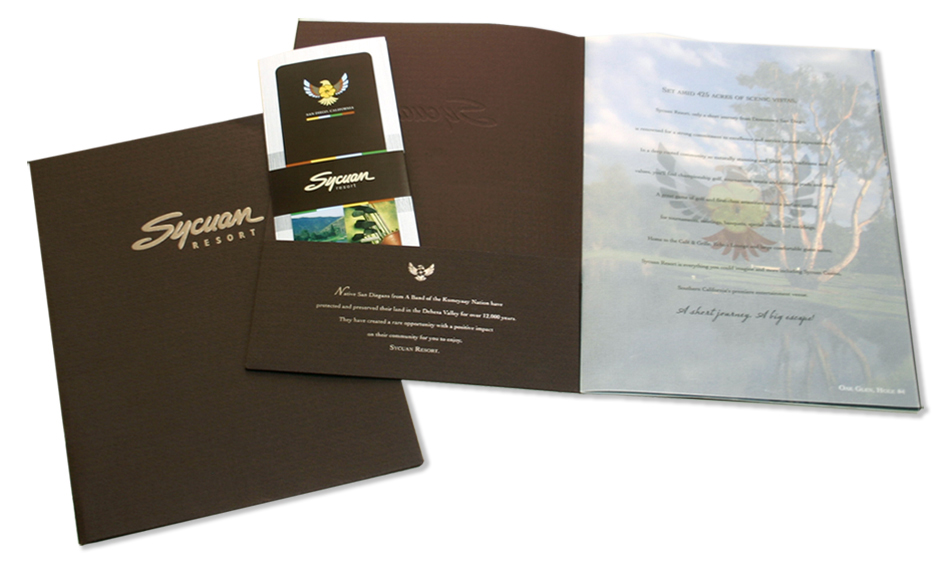 The Westin Hilton Head Island Resort & Spa Poster and Tent Card Advertisements
Created as cross-promotional advertising design pieces for the Hilton Head Island Golf Clubs, owned by Heritage Golf Group, these posters and tent cards were placed in the lobbies, elevators, guest rooms, restaurants, and lounges of The Westin Hilton Head Island Resort & Spa.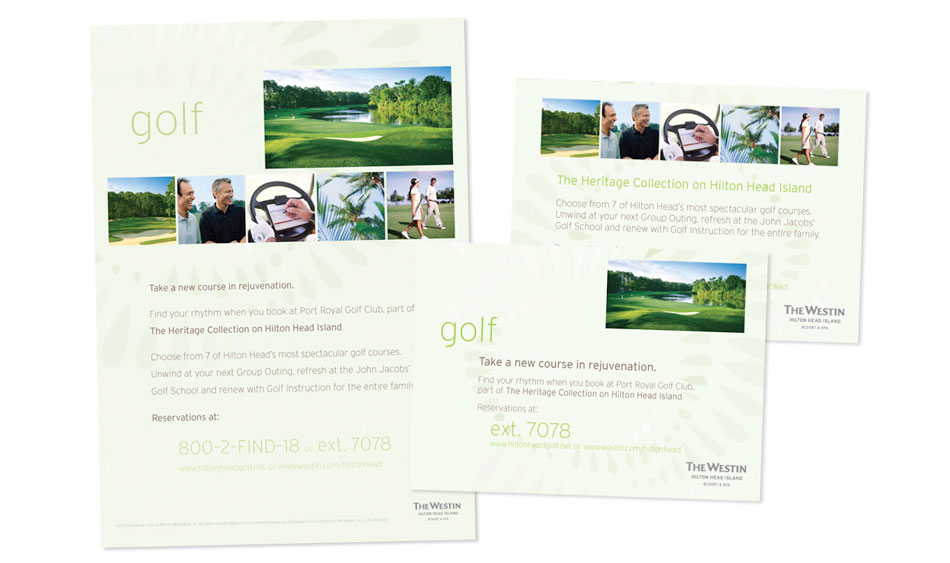 Estancia La Jolla Hotel & Spa Brochures
The Estancia La Jolla wedding, rack and cross-promotional hotel and spa brochures were created to meet the needs of their guest by providing information about the conference center, meeting facilities, relaxing at the day spa, wedding receptions and several casual-dining restaurants.