Mitchell Intelligent Solutions
Opportunity // Artificial Intelligence. Real-World Experience. Open, trusted solutions, 75 years in the making.
Company // Mitchell International
Role // Art Director
Mitchell Intelligence Solutions is the culmination of 75 years of industry expertise. From 1940s car part catalogues to 21st century machine learning models, Mitchell has always been a dedicated partner and innovator for the collision repair industry. Their portfolio of groundbreaking solutions are powered by that same dedication, combining Artificial Intelligence with collision repair wisdom, in an open ecosystem to deliver the best-in-the-business claims automation. The Mitchell Intelligent Solutions microsite includes videos on the Mitchell Intelligent Estimating and Mitchell Intelligent Vision pages, a press kit, photoshoots, animation, infographic, logos and icons, an email campaign, and social posts, etc.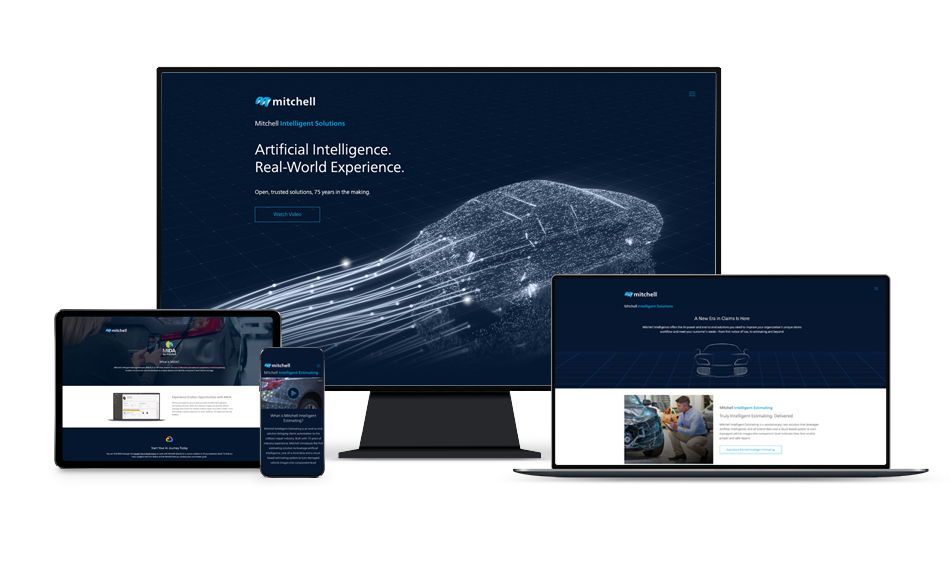 What is Mitchell Intelligent Estimating?
Experience Claims Automation Video
Mitchell Intelligent Estimating is an end-to-end solution bringing claims automation to the collision repair industry. Built with 75 years of industry experience, Mitchell introduces the first estimating solution to leverage artificial intelligence, one-of-a-kind data, and a cloud-based estimating system to turn damaged vehicle images into component-level estimate lines.
Mitchell Intelligent Solutions Webpages
Mitchell Intelligent Solutions Home Page | Mitchell Intelligent Estimating | Mitchell Intelligent Damage Analysis (MIDA)

Primary Icons
Secondary Icons
Color Palette

Photo Shoot