Atlanta National Golf Club Direct Mail Piece
This 10-panel accordion fold direct mail piece for Atlanta National Golf Club, a Heritage Golf Group property, was created from art direction to final production and printing to inspire members and guest of the amazing accommodations available – The Lodge and The Villa – for golf retreats, corporate meetings, bridal or bachelor parties and for members to host events. This piece was designed using selected imagery from a recent photo shoot, a UV coating over the images and typography treatments and a metallic gold accent ink to create an impressive finish and high quality presentation.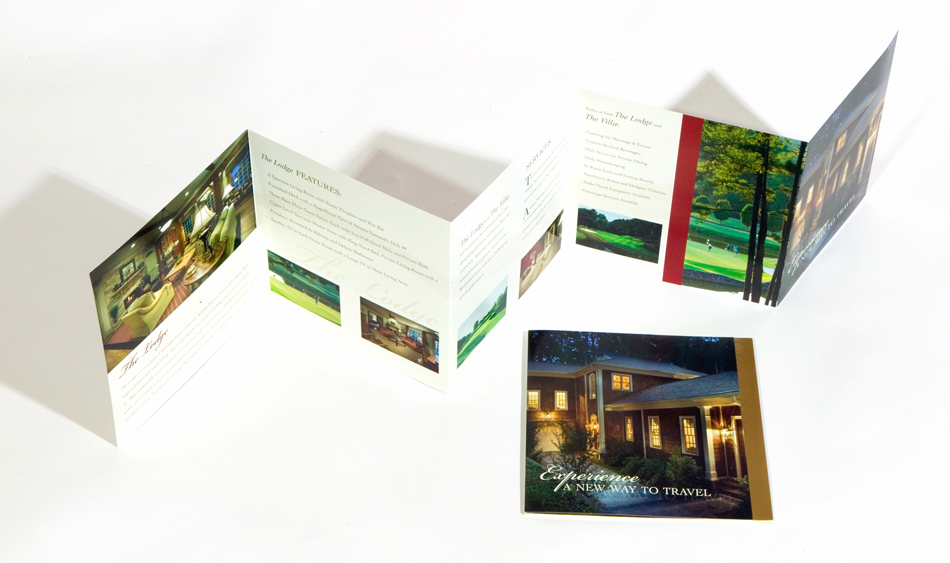 The Pinery Country Club Direct Mail
The Pinery Country Club began working with world-renowned architectural firm Marsh & Associates, Inc. to develop a comprehensive improvement plan for the entire Club. This tri-fold die-cut window direct mail piece was the first attempt to announce and draw attention to the improvements that were being made to the pool area and additional state-of-the-art fitness center using rendered drawings.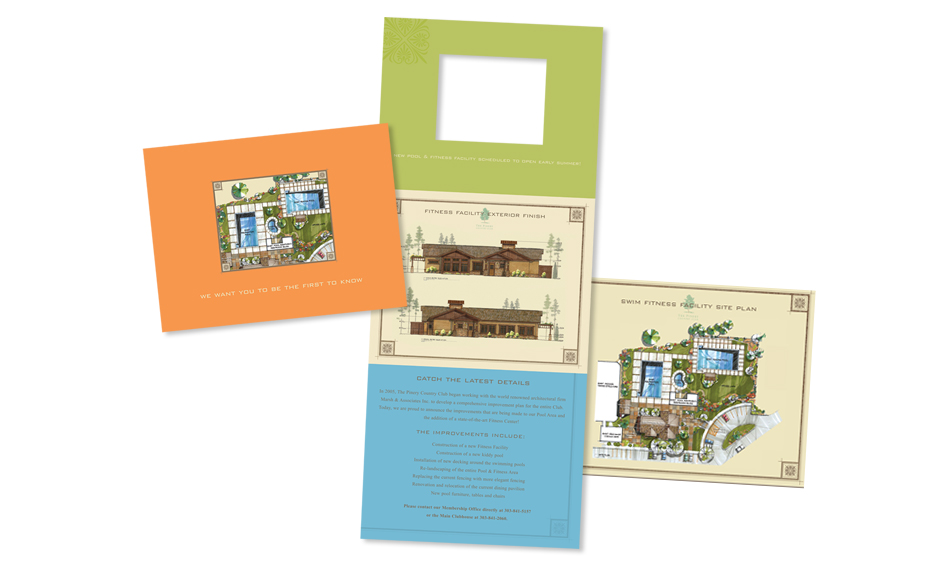 The Pinery Country Club Direct Mail 
The Pinery Country Club tri-fold direct mail piece was the announcement of the new Clubhouse scheduled to open in the summer and included renderings and the scope of the renovation project.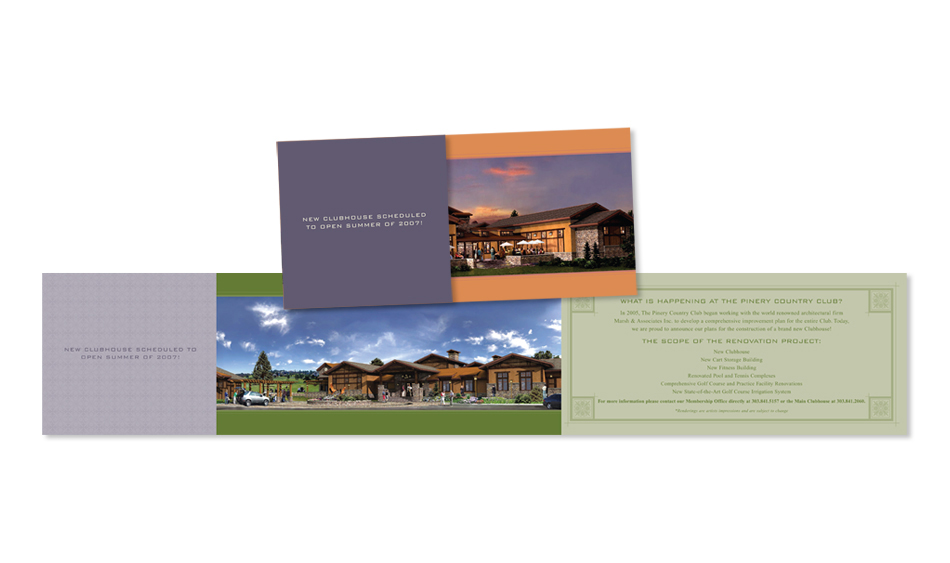 The Pinery Country Club Direct Mail 
The Pinery Country Club gatefold direct mail piece was part of several in the campaign to announce the final renovations explaining all of the major improvements underway to the Clubhouse, Golf Course and pool area and offered discounted initiation fees before completion to it's member and new members.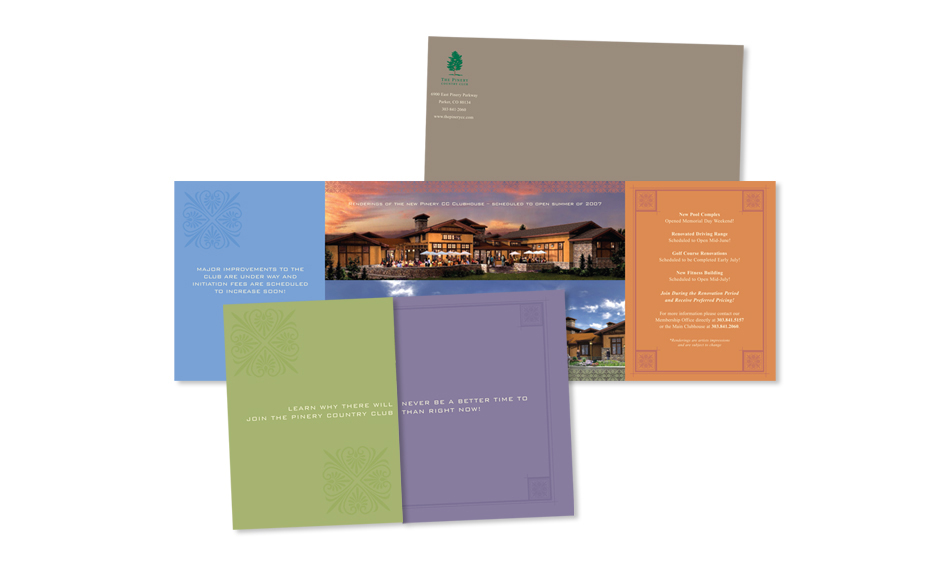 White Columns Country Club Membership Referral Direct Mail Invitation
The construction of this folding, die-cut direct mail piece mimics a blossoming flower and is used to thank it's members for their loyalty and invites them to refer their friends and colleagues to begin membership at one of Heritage Golf Group's golf properties, White Columns Country Club. The custom envelope printed in Heritage's signature metallic gold ink houses this direct mail piece, which was well received as many new guests enrolled in new memberships that year.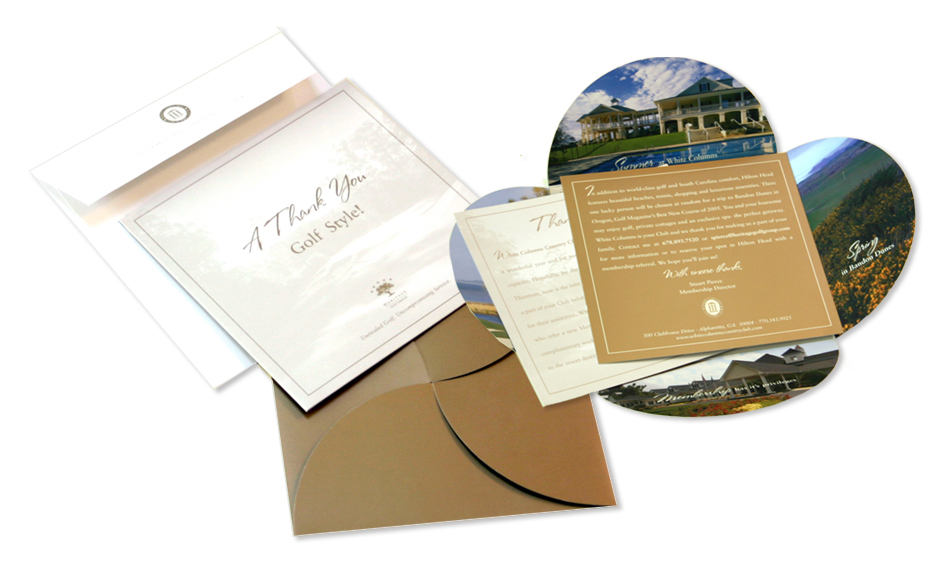 UCSD Extensions Program Direct Mail Brochure
This 8-panel puzzle die-cut direct mail sales piece went out to corporations to promote better education in the work place offering companies to send their employees to school for specialized training in their field to extend their expertise and better the companies future growth.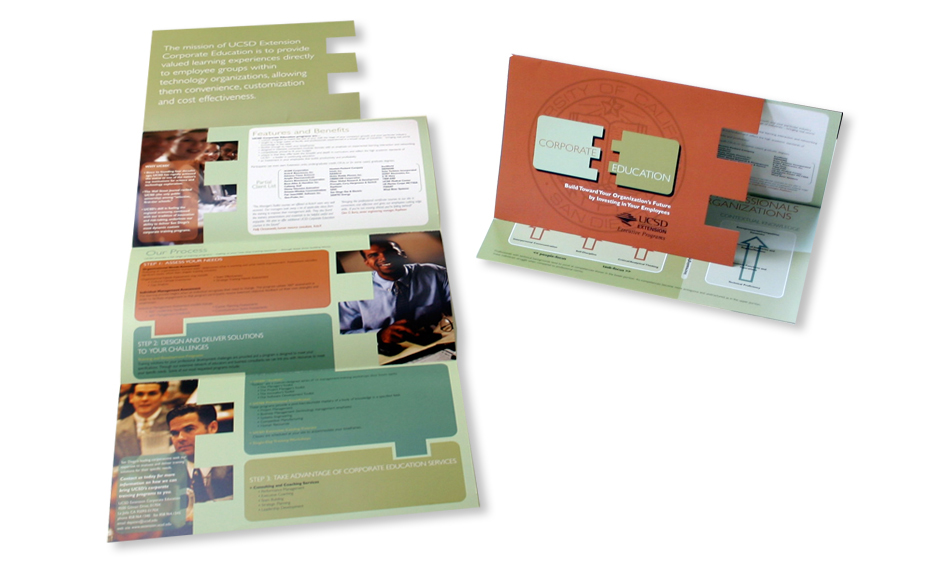 Western Golf Properties Saddle-stitched Holiday Card
Western Golf Properties mailed out a custom designed holiday card using a horizontal style saddle-stitch booklet design with vellum overlays and envelope which wowed their employees and clients.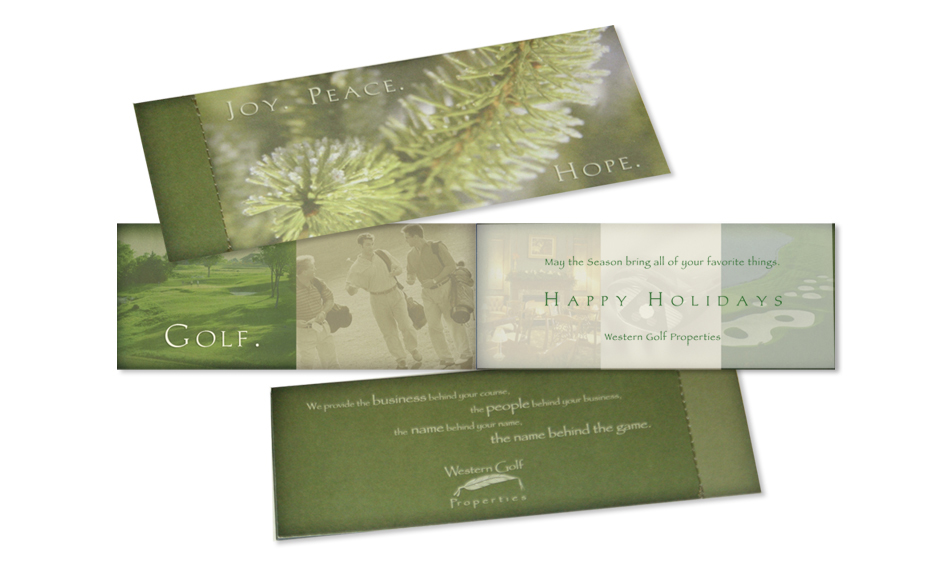 Goldman Butterwick, Fitzpatrick, Groff and Fabi Cosmetic Laser Dermatology Newsletter
A quarterly newsletter is designed for Goldman Butterwick, Fitzpatrick, Groff and Fabi Cosmetic Laser Dermatology and goes out to its existing and prospective clients offering specials and providing articles and announcements of the latest in cutting-edge cosmetic laser dermatology.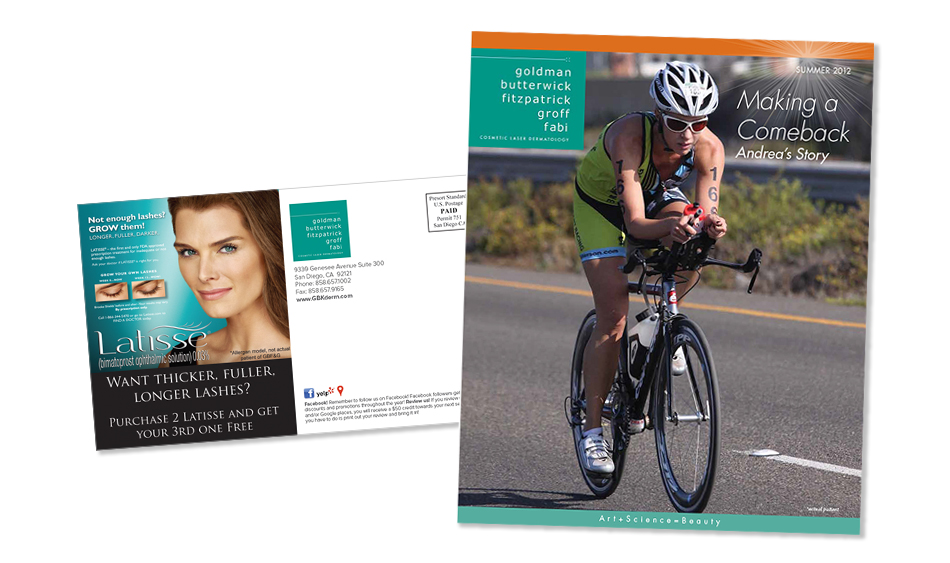 Blackstone Country Club Direct Mail Membership Invitation
This die-cut direct mail membership invitation was designed to introduce Colorado's newest private Club as one of BrightStar Golf Group's collection of fine golf properties, Blackstone Country Club.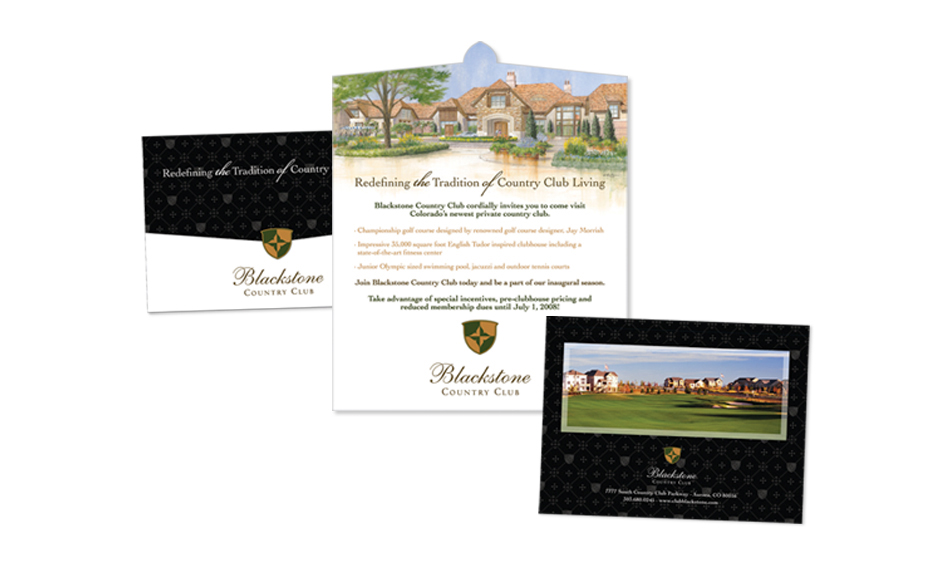 Karma Yoga San Diego Direct Mail Invitation
Karma Yoga San Diego is a non-profit organization created to brand a fundraising group to benefit non-profit organizations such as it has done for Shakti Rising since 2007. Other materials created as part of this campaign are custom logo identity, invitations, signage, banners, sign-up sheets, stationary, t-shirts, giveaways, a website and an email marketing template.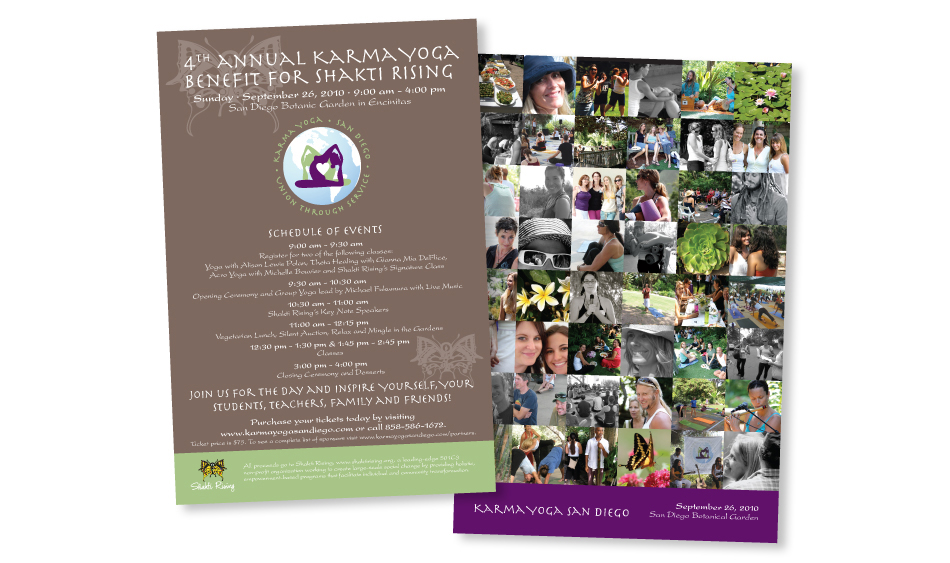 The Brighter Side Calendar
To sponsor the 3-day breast cancer walk in San Diego during the month of November, this calendar featuring women who survived cancer was designed for The Brighter Side, a boutique for women with cancer.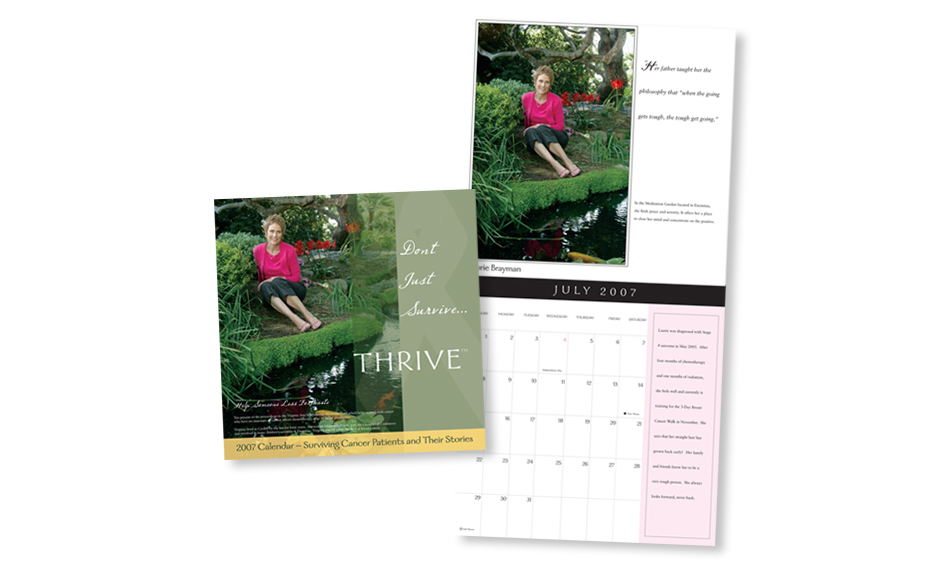 Mamma Chia Postcards
This direct mail postcard was designed for health-conscious individuals seeking an extra dose of vitality. Mamma Chia, a brand new drink hitting all of the health food stores, is the undeniable drink of choice. Infused with ancient wisdom and powered by one of the world's healthiest whole foods, Mamma Chia provides sustained energy to power your soul's purpose.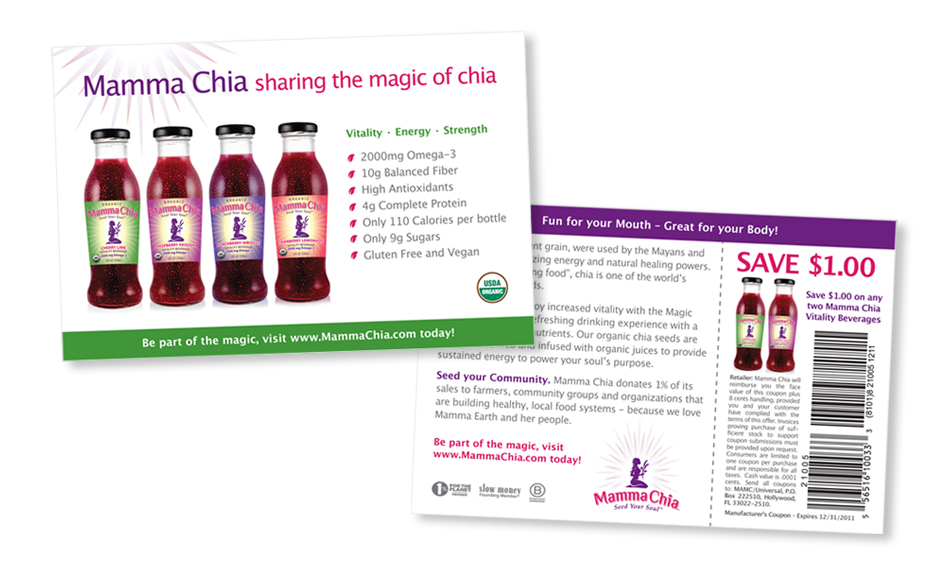 Phoenix Footwear Group, Inc. SoftWalk Direct Mail Catalog
One of many direct mail catalogs created for SoftWalk, a brand of Phoenix Footwear Group, Inc., this catalog featured a pull out poster, which also included the shoes available for the fall season advertised. This brand promotes the ultimate comfort experience.